Antarctica Country Codes

Antarctican Flag
To call Antarctica dial:



Exit Code

+ 672 + The Number



* Do not dial the plus (+) symbols

Antarctica Information

The Antarctica
country code is 672

The local time in Antarctica
is
(CLICK FOR TIME ZONES)

Get the mobile country codes for Antarctica.

Antarctica Information:
Antarctica on
Wikipedia

The currency of Antarctica is the Antarctican Dollar.
The nationality of Antarctica is Antarcticans.
The capital of Antarctica is (NONE)
Largest Cities in Antarctica by population: McMurdo Station

Antarctica Emergency Numbers
For an emergency in Antarctica, dial the following numbers:
Medical - 911
Fire - 911
Police - 911


Local Telephone Prefix:
No trunk codes in Antarctica, just dial direct when calling domestic.

Antarctica Map: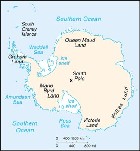 For international dialing instructions to Antarctica, use our drop down boxes at the top of this page or check out our easy-to-use country code search tool.





To search for another Country Calling Code, select the country from the following dropdown